Mastered this song for Heart Songs Records.  It reached #68 on the iTunes chart and  #130 on Google Country Top Songs!  Produced by the Beaird Music Group.
*

The legendary Mick Martin recently played this song on his radio show that is broadcast nationwide!  The song is featured on Katie Knipp's new full length album "Take It With You" that reached #10 on the Billboard Blues Album chart and is #33 on the top 50 contemporary blues albums chart Roots Music Report.  Recorded and mixed by Chris Horton @ The Recording Place in Rocklin, CA and mastered by me @ Moon Tree Mastering!  The executive producer was Benjamin Nieves.  Cheers to much success on this project and to everyone that worked on it.

*

Justin Kemp's single "Better Man" made the top 10 on Apple Music's "Hot Tracks" list.  Released by Heart Songs Records and mastered here.
*

Here is a song from Teri Anne Wilson's new EP "Back On Track" that was recorded and mixed @ Tanglewood Studios with John Morris and mastered here.
*

Winner of the "Audience Choice Award"  at the 2017 Sacramento Film & Music Festival featuring the music of Mr. Jesse Burns.  The video was produced by Charlee Rae and mastered here 🙂
*

Mastered Tonic Zephyr's debut full length album that was produced by Bruce Spencer and Mark Harmon.  This song has been getting some spins on college radio stations lately and is featured on the album.
*
*
Reached over 2 million hits on You Tube and climbing!  Produced by Ansu Varma, mixed by Derek Roth, and mastered here.
*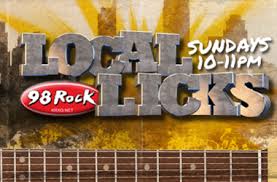 The following projects have all been featured on the show and mastered here:
*
Held the #1 spot on the Reverbnation charts for 5 weeks straight!  Produced by Ricky Wascher in Tucson, AZ and mastered here. 
*
This beautiful album project featuring the music of Brian Holzgang has been picked up by Pandora Radio!  Brian recorded and mixed this project at his home studio and then brought it to me for mastering 🙂
*
This song is featured on California Child's new full length album "Tabula Rasa" that was recorded and mixed by Dave Jensen @ Gold Standard Sounds and mastered here.
*
Mastered the single "Walked Away" by Steven Fernandes.  Steven was a former student of mine at Pinnacle College and is a very talented musician and songwriter.
*
Mastered this one for producer Jason Alleyne in Barbados!
*
Mastered this one for Ole Flugstad in Norway!
*
Featured on Tonic Zephyr's self titled debut album and mastered here!